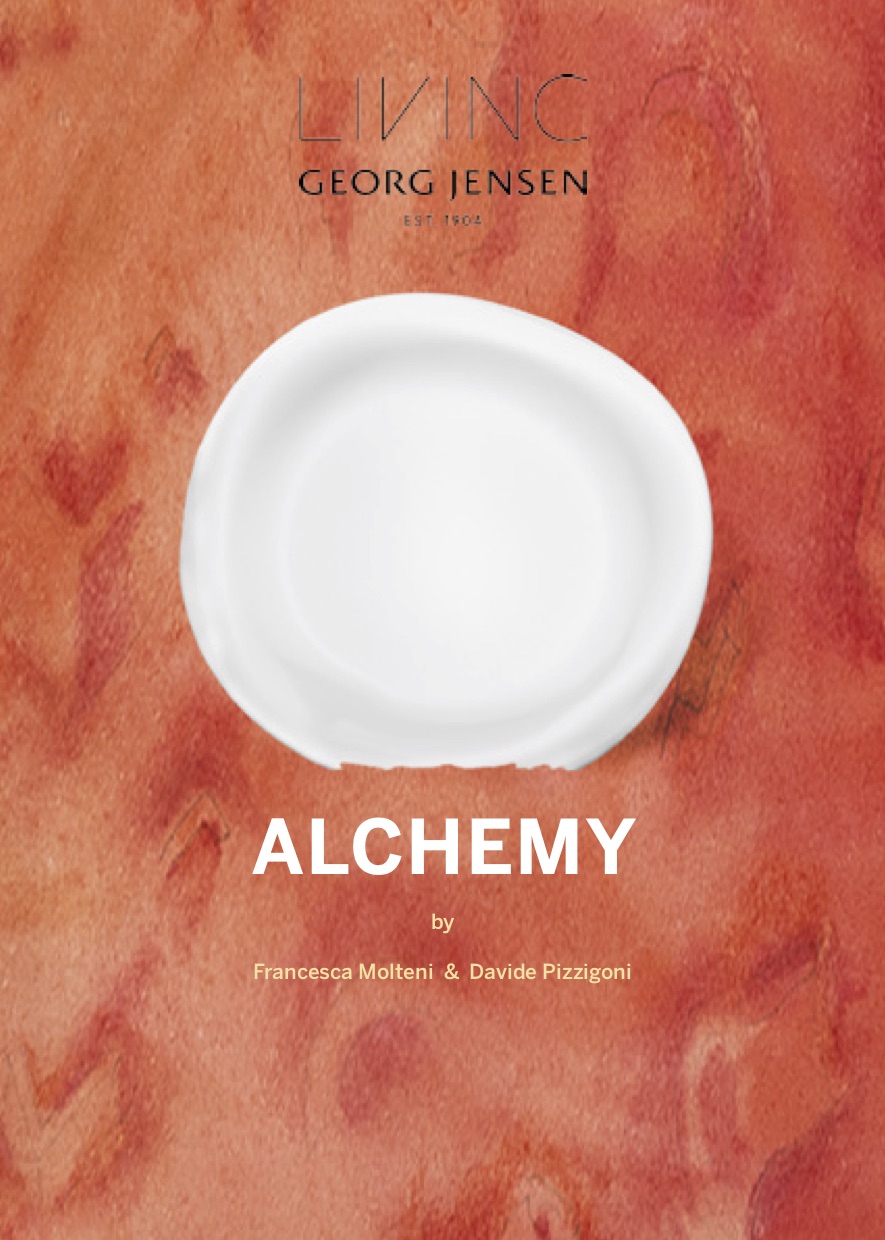 EDITED BY Francesca Molteni and Davide Pizzigoni
TEXTS Francesca Molteni and Davide Pizzigoni
GRAPHIC DESIGN Davide Pizzigoni
Italian/English 
Pages 48
PUBLISHED BY Living Georg Jensen
2015
Alchemy is transformation, mutation, status change.
Also for Alchemy installation, narrated in a book that shows the creative process, the curators thought about a before and about an after. About primordial elements – sand, wind, clear Northern light – material of creation. And about power, sometimes portentous, voracious, sometimes magical, imaginative, of transformation. Like in Vulcano's forge.
They listened to the nature under Copenhagen's sky. Not to stand above it, not to tame it, but to be part of it. They searched for the elective affinities inside the material. To learn, once again, to receive new knowledge of the world. And giving back a fuller vision of that magic called creation.
The path has obstacles, it's full of traps, wrong ways, seductions, unknowns. Like Ulysses' journey, it's full of events. Like a board game, with every step comes a question and an incorrect answer brings you back to the start. The journey becomes faster and faster the more you free yourself from useless weight, but also from fake questions.
While visiting Living Georg Jensen in Copenhagen, we were fascinated to see that this legendary design company still honours the great skills of craftsmanship. The traditional workshop with ovens and tools goes hand-in-hand with the very clean and innovative work produced by contemporary teams, achieving incomparable craftsmanship while constantly striving to create new and ground-breaking designs. That made us think of the great alchemists of ancient times who also worked on refining materials into a more divine form and, figuratively, of an erupting volcano where new comes from old.
Francesca Molteni
Check out the project ALCHEMY