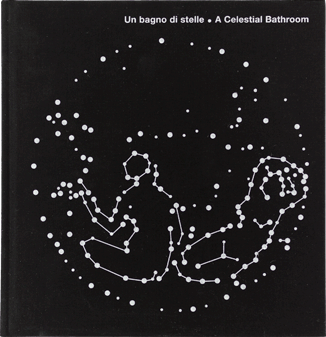 EDITED BY Francesca Molteni
PROJECT DESIGN Olivier Maupas
Italian/English
Pages 54
PUBLISHED BY Corraini Edizioni
2010
A Celestial Bathroom pays homage to the female form and to the rite that has celebrated its beauty from time immemorial, bathing. It is a focus on women in the intimate setting of the bathroom, both in a video-installation at the Milan Planetarium and in a book. Stars and "bathing beauties" in unpublished photographs that came to light in the Getty Images Archives. Yes, it is they who are the protagonists. The shining stars of the sky and the shining stars of the cinema, women in art and poetry's muses. Female athletes striving for victory. All of them beautiful. "Joan Crawford is my shining star, when things are really though I feel her presence, like a goddess" wrote one fan. The faces, bodies and sensuality of the divines turned the 20th century on its head. 
A new, free image was forged. And a Utopia: beauty was now within everyone's reach. Blondes, brunettes, pocket Venuses and Burlesque actresses; and alongside them, the divas, the icons of an era, and many less famous women have traced the story of our times: artistes, athletes and starlets. We see them enjoing their bodies, relaxing in their bathtubs, appearing from behind a shower curtain. With the smile and irony of those who have a lifetime of dreaming ahead of them.
Beautiful, sometimes. Fascinating, always. Because he is always there to watch them, Marcello Mastroianni, the man who loved women.
Check out the project A CELESTIAL BATHROOM